About the EX-GIRLFRIENDs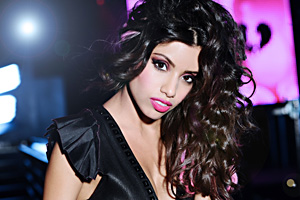 Webster's defines the word "reinvent" as "to make as if for the first time something already invented." This is exactly what Lupe Fuentes has worked so diligently over the last two years to do for herself and her career. Never ashamed of her past but rather finding her passion and doing everything in her power to bring it to fruition, Lupe is excited to transmute her fame as the largest and most successful internet star in the history of adult entertainment to her new musical career.
It is a fact that Fuentes draws attention wherever she goes despite her petite 4'9" stature. Not because she is looking for it, but because she naturally exudes a built-in star quality whether she is having a one on one conversation or performing on stage with her new group, The Ex-Girlfriends. In just the first week, the group's first music video received well over 6 million views on YouTube and is quickly proving Lupe's "it factor" is translating seamlessly from her past success to her new venture.
The Ex-Girlfriends are bringing more than just pretty faces and danceable beats. Much like Japan has J-Pop and Korea has K-Pop, The Ex-Girlfriends are bringing a lifestyle being appropriately referred to as "A-Pop." Fuentes says, "I wanted to create a group around me to perform my songs and help me with my vision, a movement of sexy, fun, exotic glamour mixed with modern fashion and impeccable style. A lifestyle that revolved around the ideals of true friendship, about supporting each other, backing each other up, like a bunch of girls who had each other's backs no matter what, who were connected by the music, the dancing, the release of just being ourselves and not caring what anyone thought about us. We are all Americans, who are of course mainly from other places, it's what makes America great, our melting pot, all the girls are different ethnicities, just like the USA, we are Spanish, Colombian, Japanese, Brazilian, Filipino, French, Mulatto, name it, we are all mixed up and I think that is beautiful, we are A-Pop. The Asian bands we're inspired by aren't just bands that people like—everyone, the band and their fans, has this similar mindset. The music is the soundtrack to it." Often seen with their hands crossed in the air with an "X", The Ex-Girlfriends pose is quickly becoming a pop culture symbol of TOGETHERNESS and FRIENDSHIP!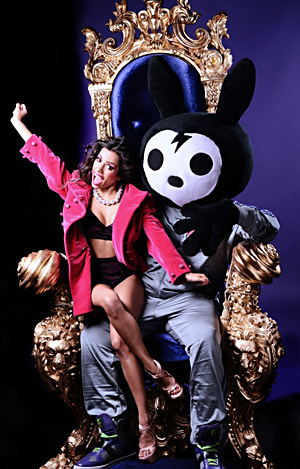 Besides Fuentes, the Ex-Girlfriends is made up of four girls, a DJ and of course, their loveable mascot, the cutest party starting bunny from the far east named "Here We Go" (played by none other than Machete star Danny Trejo in the video.) They are all creative and gorgeous girls who represent a perfect ethnic admixture of the planet. There's Smash, who's German-Native American. Baby J is Japanese and Brazilian, Dee-Love is black and French, and finally Tee-Money is Filipina. They've worked as dancers and choreographers for some of pop's biggest names, including Justin Bieber, Shakira, Christina Aguilera, Katy Perry, Maroon 5, Tiësto, Nelly Furtado and N.E.R.D. "I find my strength in myself and my girlfriends," says Fuentes. "We are vivacious, sexy, empowered, romantic girls who love friendship—and we keep our best girls tight!"
Lupe shines with a light and lust for life that most would not anticipate coming out of a girl who has led a life filled with the challenges this petite spitfire has been faced with. Some people handle life's challenges by giving up, some find strength and motivation in them but develop a thick and bitter skin, but Lupe has persevered, found massive success and has finally found a way to motivate and empower those around her to live life to the fullest, be happy have fun and in turn, rely on and empower EACH OTHER.
Growing up in Cali, Colombia and Madrid, Spain under very trying and poor circumstances with a single mother who tried her best, but was usually without a home or a job, Lupe was raised in poverty, wearing clothing from charity at the local church and sleeping on the floors of her mother's friends. Forced to drop out of school to work and help her mom, Lupe was exposed to the harsh reality of the struggle to survive. She kept her dreams alive in her heart and somehow always remained positive in her mind even in the hardest of times.
When she was just 18, she met an abusive man who offered her a career as a model and promised it would make her a big star. She was soon coerced into getting involved in the adult industry believing it would be a great way to become a famous model and make money to help with her family situation.
Lupe was a star overnight and her first website was the single biggest website in terms of traffic for any single adult star in the history of the adult industry with millions of visitors each day. No one loved being famous more than Lupe, but she wanted to be famous for creating something and doing something she was passionate about. She took her life into her own hands, followed her aspirations and made her way to the US, the land of opportunity, the land of hopes and dreams... It was there she met her current husband, Evan Seinfeld who was a well known rock star and a very successful manager in the adult industry. Evan and Lupe fell in love in a whirlwind romance. When she initially arrived in California, she didn't speak a word of English but quickly picked it up and taught herself the language. Her sexy Spanish accent is her calling card and is often compared to Penelope Cruz in its tone and Sofia Vergara, in its character.
Once Lupe was settled in the United States, she parlayed her initial success into her own control for the first time. She utilized her business savvy to create her own website, owning and managing all of the content and working solely for herself, making her a vastly successful business woman in addition to her success with her adult persona. Working hard and playing hard together with her husband, Lupe's career in the adult industry skyrocketed and she quickly became the "it girl" of the other Hollywood, appearing as a regular on the Howard Stern Show , often referred to as Little Lupe! Lupe won dozens of prestigious awards in the biz, has appeared in a multitude of magazines- from Hustler and Penthouse to Inked, wrote a column for complex.com, published several viral videos, appeared on endless red carpets, has been featured as a darling on TMZ, created her own petite clothing line, and much more.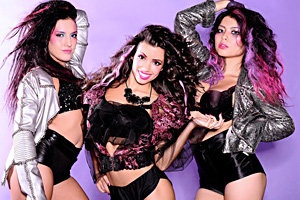 Now that her focus is 100% on The Ex-Girlfriends and the response to their first video has already exploded, next up on Lupe's list is to continue recording music and writing songs in the studio in Los Angeles. They work with a bevy of amazing producers, and currently have almost a whole album written. "I don't know if people even buy full length albums any more, at the moment I am really interested in releasing one single at a time and shooting very stylized videos for each one. We are working on some viral videos that are a kind of reality webisode series too, and of course we are excited to go out and start performing live. I love DJ's and clubs so much and I can't wait to have The Ex-Girlfriends appear at really cool venues around the world or even on TV. It has always been my dream to perform songs that I had written or collaborated on and to have a crowd sing along with me. It's crazy, people are emailing us videos of themselves singing, "we are the party party, We shake it boom boom..." I feel so blessed, music is freedom. We want to develop a big live show, a huge production with pyro, video screens, effects and a lot of crowd interaction, high energy dancing and of course sexy fun!"
Lupe Fuentes is a true testament to creating your own destiny regardless of your circumstances, being able to change your path to create a new one and to celebrate and have fun with it all along! The last few years have proven the mainstream is welcoming controversy with change and celebrating pushing the boundaries of pop culture and sexuality. Lupe knows there will always be people who will judge her for her past, but it is her fans and supporters who help her outshine the negativity and embrace a talented, sexy powerful woman with a relentless drive and crew of her best Ex-Girlfriends to bring along with her!